Welcome to Sgarabhaigh (pronounced Scaravay) here is your chance to have your own Scottish island, your island in the islands, your piece of Scotland.


This is a project built on the foundations of friendship and created from the principles of 'Sustainability'. It is anticipated that the project will grow over the years providing people with an ancestral link to Scotland or people who have a love of Scotland to have their own island in this beautiful place. Through this linkage the environment of the island will be protected, the area will benefit from the Associate Owners occasional visits which will stimulate the local economy and the social contact will enrich the lives of both Associate Owners and their families and the people of the islands.
All in all a project set to stand the test of time and to bring kindred spirits together as an ever growing international family dedicated to protecting and enjoying Sgarabhaigh the Western Isles and Scotland. It is hoped that the island will, through its unchanging nature, provide enjoyment as both a place to visit and as a spiritual home that can also be enjoyed from afar.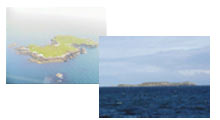 This little island nestling in the Sound of Harris in the Western Isles of Scotland it lies at the heart of some the most beautiful and unspoilt environments in the world. It is a land rich in a history that is made all the more entrancing by copious measures of myth and legend.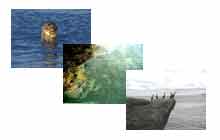 Visit, walk and film the island and all it has to offer. The crystal clear waters that surround the island hold an array of sea life including dolphins, whales and a resident colony of seals that will often greet you when you arrive. A host of sea birds visit the island to rest feed and nest on its gentle green slopes or its weather sculpted rocks.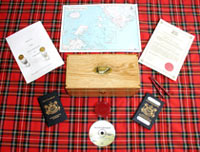 Have your own box full of reminders of your special place with its passport, film, handbook, wax seal, certificate and more with room for your own treasures, a unique family heirloom - your own 'Island in a Box'.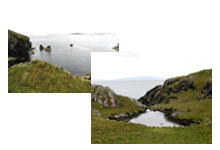 This gift has grown out of a dream that came true to create the gift of a lifetime for a lifetime and if you wish, to be passed on down the ages as each generation renews the 'Holding' and with it their links to Sgarabhaigh, the Western Isles and of course Scotland and its people. So buy your own piece of Scottish heritage; join the island family that is 'Friends of Sgarabhaigh'; impress your friends and become an Associate Owner of our island of Sgarabhaigh.


You can also have a piece of our currency is the form of a Sgarabhaigh Silver Sixpence based on the James 1st coin from 1603. It comes packaged with a certificate telling its story in a purpose made box sealed with ribbon and sealing wax. This is available to anyone who would like a very special gift. Click here for more information


An early visitor's reaction to Sgarabhaigh:
"WOW Sgarabhaigh is even more beautiful than I ever imagined! Thank you for allowing us the opportunity to spend time in such a special place. The weather was incredible too..we definitely picked the best day! I saw the sea otter.. .gorgeous. Andrew and his boat were lovely and Chrissie's an absolute sweetheart. It feels like a dream already. I was very emotional."
Enchanted? .. click here for more information.